Instrument Rentals
Keyboard, Acoustic, Bass and Electric Guitars ($90 per week, $10 per day thereafter -or- $20 per day
Electric Guitar Amp Weekly $50, Daily $10 thereafter with weekly.. Single Day $15

Bass Guitar Amp Weekly $50, Daily $10 thereafter with weekly.. Single Day $15
---
Pro Audio Rentals
Do you need speakers, subs, microphones and cables for your event? We've got you covered! Contact us for more information!
Friday-Monday Rental: $300 for 1 tower and 1 sub. $400 for 2 towers and 2 subs

Same day rental: $200 for 1 tower and 1 sub. $300 for 2 towers and 2 subs
Recommended for audiences up to 500

24-speaker articulated line array delivers 180-degree horizontal sound coverage

Produces the most consistent tonal balance with little volume drop-off over distance

System's interconnecting pieces allow for efficient transport, easy setup and breakdown

One B2 bass module included for each side



JBL EON 615 (15" Two-Way Multipurpose Self-Powered Sound Reinforcement)
More than just another great JBL sound system, the new EON600 is a true step forward in technology developed specifically to deliver the best sound possible regardless of its application. Completely rethinking how truly good an affordable self-contained, portable PA system can be, JBL engineers purposely designed and built the EON600 from the ground up featuring JBL's advanced waveguide technology, JBL designed and manufactured transducers, and convenient, wireless remote control of its onboard DSP EQ parameters via Bluetooth. This total redesign of the EON platform leverages the latest technologies in cabinet materials, acoustic science, transducer design and user friendliness that delivers the extraordinary quality of a high-end studio monitor in a fully professional, highly flexible, easy to use, portable system for today's working musicians and sound providers.


Friday-Monday Rental: $200 for 1, $300 for 2

Saturday-Monday Rental: $175 for 1, $250 for 2

Same day rental: $150 for 1, $200 for 2

Add one Subwoofer $50, 2 subs for $75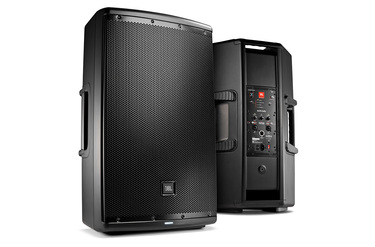 ---
Battery powered Lapel/Lavalier Systems
Beach wedding? We've got you covered with our Synco G1 A1 (2.4GHz) or our Pixel Voical Air (UHF)